Is Mold Common in Crawl Spaces?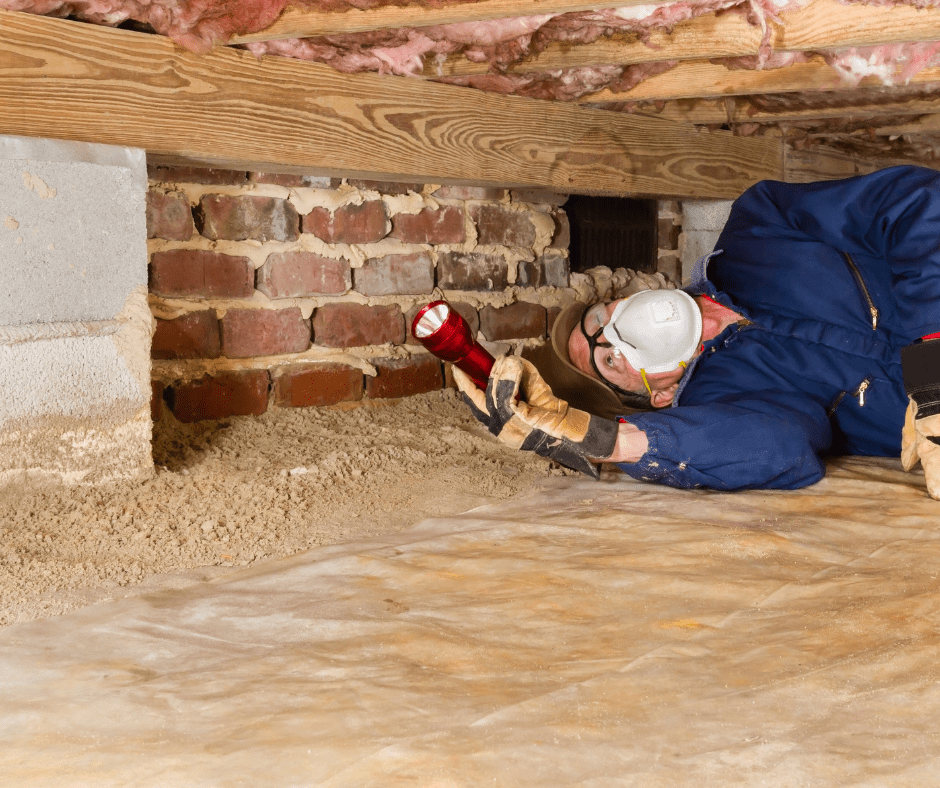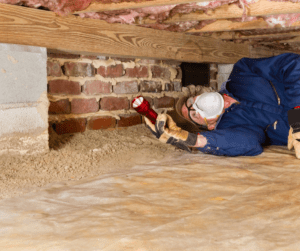 It should come as no surprise that the crawl space ranks as the most common among spaces in the home for mold infestations. The crawl space is an often forgotten and overlooked part of your home. This fact alone can present a detriment to proactivel crawlspace mold remediation.
Crawl spaces are the perfect mold habitat. They are dark, damp, and present plentiful food sources for mold. Due to the nature of the crawl space's construction against the ground, moisture is a constant threat and its presence can ignite a mold infestation. With mold spores ever present in the air, a damp crawl space is the perfect invitation and can only be remedied with an effective crawl space mold remediation plan from MSR Restoration.
Can Mold in a Crawl Space get into the House?
Since crawl spaces are not considered living spaces within your home, it often becomes an out-of-sight, out-of-mind scenario. However, the air quality in your crawl space does impact the air quality in your home. Two key contributors allow mold spores to spread throughout your home. Your HVAC system is frequently located in or has critical air handling components in the crawl space. Mold can be drawn into the HVAC system through leaky ductwork and distributed throughout your living space. Or, because of the stack effect, which is based on the principle that heat rises, warm air acts as a vehicle for mold particles traveling from your crawl space into your home. Unfortunately, mold spores frequently make their way into your home through this mode of transmission. If this situation is discovered in your home, contact the crawl space mold remediation experts at MSR Restoration.
How much Mold in the Crawl Space is Acceptable?
The short answer to how much mold in a crawl space is acceptable? NONE! Due to the environmental conditions that are present in most crawl spaces, even the smallest amount of mold can erupt into an infestation in no time. For this reason, it is imperative to call crawl space mold remediation experts if mold is discovered. Since the circulation of air from the crawl space can infiltrate the rest of the home, the presence of mold in this space should be eliminated. Even crawl spaces that measure less than 20 percent in moisture can inhibit mold growth.
Crawl Space Mold Remediation is the best way to get rid of Mold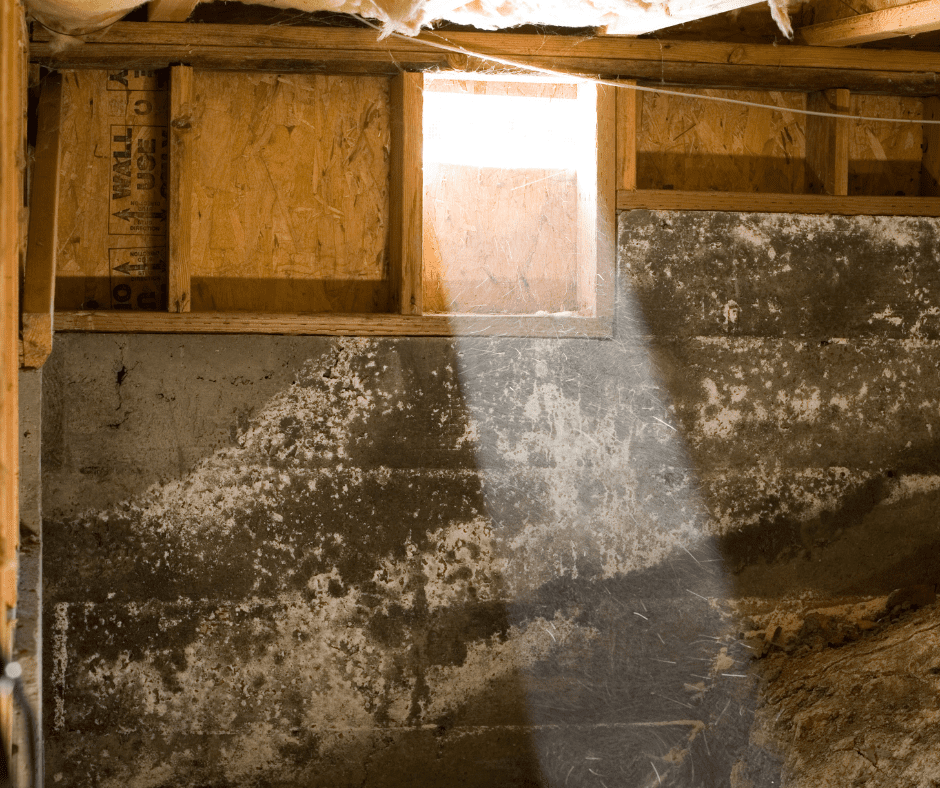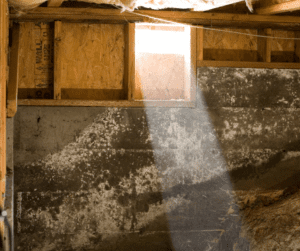 In the mold remediation industry, there can be confusion over some terminology. Mold removal is simply the process of removing mold. Mold remediation is focused on all the steps taken to fight mold infestations and returning the home to safe, natural mold levels. MSR Restoration is a leader in crawl space mold remediation. Unlike some companies, we do not just remove mold, we eliminate it at its source. At MSR, we will evaluate your mold infestation and will remediate it accordingly. Our crawlspace mold remediation process does include mold removal, but unlike our competitors we will identify and help correct the source of the mold and offer preventative methods to halt recurring infestations.
Crawl Space Mold Remediation Steps
Crawl space mold remediation is a complex process that is broken down into a series of steps to rid your home of a mold infestation. The size of the infestation and the accessibility of the location of the mold in your crawl space will dictate the extent of the remediation process.
Step 1: Identification
The first step in the crawl space remediation process occurs when the homeowner identifies a mold infestation or suspects a mold infestation in their crawl space. At this point, the homeowner should contact a crawl space mold remediation specialist, like the experts at MSR Restoration and schedule a free consultation.
Step 2: Inspection & Evaluation
A professional inspection and assessment of the mold infestation occurs next. A crawl space mold remediation specialist will assess the extent of the infestation and the subsequent damages in your home. At this point, the experts at MSR Restoration will formulate a remediation plan for your individual situation.
Step 3: Abatement & Containment
During this phase of crawlspace mold remediation, two key points must be addressed. First, the source of the moisture and water entering the crawl space must be identified and eliminated. Second, the mold in the crawl space must be contained in order to prevent it from spreading to other parts of the home.
Step 4: Cleaning
This step in the process involves the actual removal of the mold from the crawl space. MSR Restoration's specialized equipment is deployed to eliminate the current infestation through scrubbing, air filtration, and the applications of cleaners and fungicides.
Step 5: Restoration & Prevention
The final phase of crawlspace mold remediation is the restoration and prevention of future mold growth. In this step damaged materials are replaced and de-humidifiers or ventilation systems are installed to maintain a mold-resistant environment.
How Long does Crawl Space Mold Remediation take?
Crawl space mold remediation presents many factors that can affect the amount of time required to rid your home of a mold infestation. As a general rule of thumb, your crawl space mold remediation may take anywhere from 1 to 10 days. In some extreme cases, the timeline may be extended. A thorough assessment of the crawl space will help determine the duration of the remediation. Crawl spaces normally do not require much demolition, however due to their confined space, they can present significant challenges for crawlspace mold remediation. The experts at MSR Restoration can evaluate your crawl space mold infestation and tailor a custom course of action to bring the safety and security back to your home.
Professional Crawl Space Mold Remediation Services from MSR Restoration
If you suspect your crawl space may be the site of a mold infestation or harboring excessive moisture, seek advice on crawl space mold remediation from the professionals at MSR Restoration. The expert team at MSR Restoration will utilize their years of experience and highly specialized equipment to remediate the most challenging mold-infested crawl space. Contact us today for a free crawlspace mold remediation consultation.