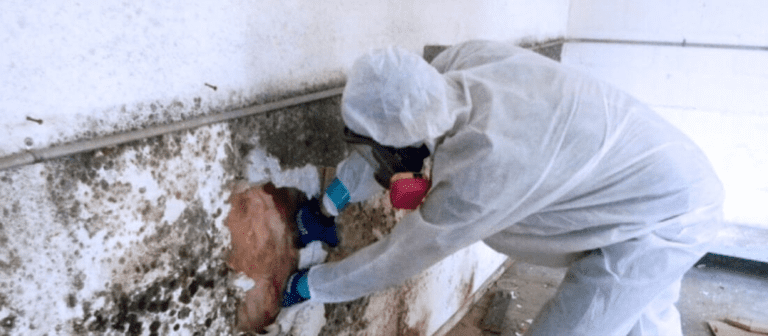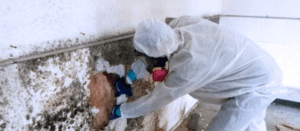 In our years of experience as a mold remediation service, we've seen almost everything there is to see when it comes to mold growth in and around homes. We've also very carefully refined our process so that homeowners have the most hassle-free experience possible during the mold abatement.
Our Mold Remediation Services
Whether it's crawlspace mold removal, mold removal in the attic, or mold removal in the basement, our mold remediation services will solve your mold problem. Here's what you can expect from our skilled mold professionals:
Evaluation. At our first meeting, we'll thoroughly evaluate your space to determine the extent of the mold damage, and discuss our plan for remediation and restoration with you. As professional contractors, we can make the necessary repairs when the remediation work is done.
Site prep. We'll outfit ourselves in the proper safety gear, such as a high filtration face mask and full protective suit. We'll also seal off the affected area and lay down plastic sheeting so the mold spores are contained as we work.
Mold Removal. Porous materials, such as sheetrock, baseboards, tack strips, paper-backed insulation, and others that have been affected by mold and cannot be restored to their previous condition will be removed and discarded. Simply cleaning these materials and leaving them in place would almost certainly guarantee mold re-growth. It's important to remove them completely. It's likely that during this phase, we'll also find the source of your mold problem, whether it's a roof leak, foundation issue, leaky pipe, a spill, or something else. We'll keep you updated on what we find and discuss full mold remediation services with you the best way to move forward, whether we're working on crawlspace mold removal, or in the attic, or basement.
HEPA/Vacuuming & Anti-Microbial Cleaning. The remaining surfaces in the problem area will be property vacuumed with HEPA filtration equipment and treated with a non-VOC (Volatile Organic Compound) anti-microbial solution.  Any surfaces left with mold staining will be scrubbed and treated with a mold stain remover and then a mold-resistant sealant to inhibit future mold growth.
Air Purifying. Once the mold and its source have been removed, we'll get to work cleaning and purifying the air in the affected area. We utilize professional equipment such as HEPA air scrubbers and industrial-strength dehumidifiers.
CONTACT US FOR A FREE EVALUATION!
MSR Restoration's Mold Remediation Services Include
Mold Inspection: Our inspection professionals will visit your home shortly after you contact us to identify and assess the mold problem.
Mold Containment: When the source of the mold is identified, we will turn off air conditioning and ventilation systems to prevent the further spread of the mold. Our mold remediation service professionals wear safety clothes and masks to prevent any cross-contamination.
Air Filtration: We use special filtration equipment to capture airborne mold particles. Powerful HEPA vacuum cleaners clean the air to prevent additional contamination.
Mold Removal: We use antimicrobial and antifungal treatments to treat mold. If necessary, we will also remove the mold-infested materials for safety.
Drying: It is very important to make sure that cleaned areas remain dry. Our mold remediation specialists employ moisture management strategies to prevent mold issues in the future.
Restoration: The restoration process may involve minor repairs and installation of replacement items. Clean, mold-free drywall and carpet padding replace contaminated ones.
Mold Remediation vs. Mold Removal
Mold remediation and mold removal are nearly interchangeable terms: mold remediation services also address the cause of the problem rather than just removing the mold. Because mold spores are airborne and microscopic, they occur naturally in both indoor and outdoor environments, which is why it is virtually impossible to eliminate mold entirely from the air. Whether you need crawlspace mold removal, or mold remediation in the attic or basement, we are your mold removal solution.

Mold remediation returns the mold levels to acceptable levels, by addressing the microscopic cause of the mold and returning it to a point where it no longer causes harm to the house and its residents. Be aware that there is no way to completely remove all mold from the environment.
When the mold flare-up is larger – more than 10 square feet in size – consulting with a mold remediation service professional is recommended. Solve all your mold problems in the right way with the experts at an experienced mold remediation services company.
As with any skilled professional you hire, be wary of companies that offer quick-fix solutions without actually tackling the problem at its source. Some companies claim to offer mold removal services while only covering up the existing mold. This may seem like a cheaper option at first, but after the mold comes back time and time again, you'll end up paying much more in the long run. Solve your problems the right way the first time with a professional, experienced mold remediation services company. We offer crawlspace mold removal, mold removal in attics, and mold removal in basements. Please contact us to schedule a FREE evaluation.
What To Do Until Help Arrives
Keep these tips in mind until mold remediation services begin:
Turn off your air conditioning systems and any air moving equipment, including fans, HVAC system, etc.
Do not go into the area that has been infested with mold. If there is a door to that area, close it to prevent contamination.
Find the moisture source and if possible, try to stop it.
Do not touch or try to do anything with the mold.
Do not blow air into the mold infested area or try to dry the area.
Do not spread any disinfectants in the infested area.
Mold Remediation Services in your area
| | | |
| --- | --- | --- |
| Barrington, NJ | Huntingdon Valley, PA | Newtown Square PA |
| Blue Bell, PA | Jenkintown-Wyndmoor, PA | Newtown, PA |
| Bryn Mawr, PA | Lafayette Hill, PA | Pennington, NJ |
| Cherry Hill, NJ | Lambertville, NJ | Pitman, NJ |
| Deptford, NJ | Marlton, NJ | Radnor PA |
| Ewing, NJ | Medford Lakes, NJ | Titusville NJ |
| Flourtown, PA | Medford, NJ | Wayne , PA |
| Gwynedd Valley, PA | Moorestown, NJ | Wenonah NJ |
| Havertown PA | Mt. Holly, NJ | Yardley, PA |
| Horsham, PA | Mullica Hill, NJ | |
Additional Services