Is mold in the attic serious?
Mold in the attic can be a big problem. When mold is present in the attic of your home and it covers more than 10 square feet, it's time for attic mold removal. Even when you can't see it, mold and mycotoxins give off a musty smell and can become a biological hazard spreading around your house causing serious health problems like asthma, chronic coughs, skin rashes and breathing problems. Left untreated, the long term effects of mold growth can cause damage to the sheathing and structural deterioration to your roof, requiring costly repairs.
How do I get rid of mold in my attic?
Attic mold removal is more thoroughly completed by a professional team, like MSR Restoration. However, there are methods you as a homeowner can try in the mean time.
Empty the attic space and seal your attic with tape and plastic sheeting to prevent the mold from spreading to the rest of your house

Remove any accumulated water

Clean and dry the attic area with a wet vac and dry with fans, heaters and dehumidifiers

Dry ice blasting has been shown to be effective for attic mold removal. The thermal shock will loosen the mold from surfaces and the tight spaces and framing gaps.

Treat all of the surfaces with strong, anti-microbial chemical solutions.
What is the fastest method for attic mold removal?
The fastest and most effective method for attic mold removal is to have a professional mold removal team take care of the problem. The mold remediation specialists at MSR Restoration have encountered every sort of attic mold problem and know what spaces need extra scrubbing or what surfaces will respond better with different techniques. A professional attic mold removal team comes prepared for the unexpected and can quickly adjust their methods to better remove any mold spores in your home and prevent the spread and future regrowth.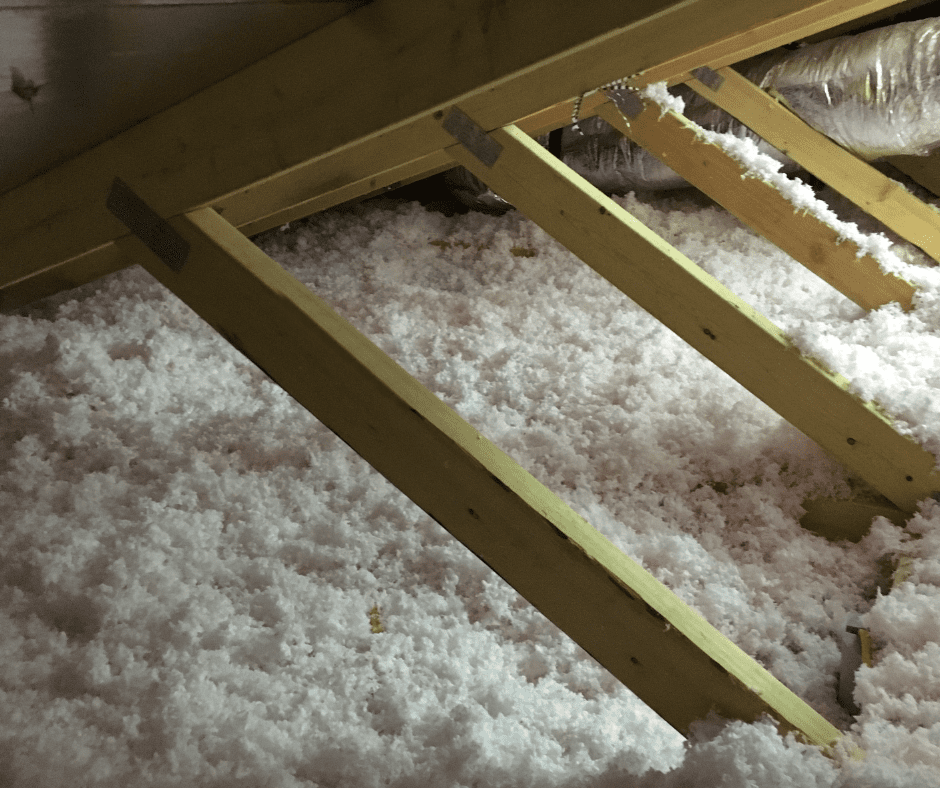 Call a professional for attic mold removal! 
Attic mold removal experts are highly trained in every step of the mold remediation process. From preparing your home to prevent the spread of loose spores during removal, to using professional-grade equipment and chemicals to remove mold. Mold removal professionals also use their years of experience to provide the advice and guidance needed for keeping the area dry and cool to prevent future infestations. 
How do I prepare for the attic mold removal process?
Getting your attic ready for mold remediation can seem as much of a daunting task as the actual attic mold removal process. Ensuring the attic is empty by removing all your belongings can also be a lot of work. However, this should not deter you from the attic mold remediation because ignoring the problem doesn't make it go away! Be sure to use thick plastic sheeting or bags sealed tight to keep the mold spores from spreading into your house as you bring items down. Any insulation affected with mold will also need to be removed, and then it's important to seal all vents, windows, and other openings with heavy duty tape and plastic sheeting.
Make sure attic mold removal is part of your spring cleaning project
Attic cleaning can easily be overlooked during your spring cleaning projects since it's not a space that is frequently visited. Unfortunately, this is why attic mold can grow from a small, manageable problem to a toxic hazard causing health problems and structural deterioration to your home. A small amount of moisture accumulating behind a box in a dark humid attic corner can be an ideal environment for mold to start to grow. If attic mold removal is part of your annual spring cleaning, you'll save yourself time, energy, and money down the road.  
MSR Restoration can help you through the attic mold removal process!  
The attic mold removal professionals at MSR Restoration have expert teams ready to assist you with your spring cleaning project. They can thoroughly and efficiently prepare your home for mold remediation, remove the mold, clean your attic surfaces to prevent mold regrowth and provide guidance on how to keep your attic uninhabitable for mold to grow in the future. If you discover mold in your attic or suspect it may be present, contact MSR to schedule a free evaluation today.