How Common Is Attic Mold?
Studies have shown that over 50% of homeowners have attic mold in their homes. Even though the attic is one of the most common places molds can grow, most homeowners aren't aware they have a problem until it's too late. Warm temperatures and rain during the summer and early fall can create the perfect conditions for mold to grow in your attic. As mold remediation experts, MSR Restoration is here to help so you know the signs of mold, what to look for, and how to get rid of attic mold.
What Temperature Is Right For Attic Mold To Grow?
Attic mold thrives in temperatures between 41 and 140 degrees. As the summer sun shines down on your roof the insulation keeps your attic in this temperature range. Some homeowners attempt to "cook" attic mold by letting their attic reach temperatures over 140 degrees to kill the mold, but this solution can backfire. High temperatures in this range can also bake your shingles and severely shorten their lifespan, and put extra stress on your air conditioning system, leading to higher cooling bills. MSR Restoration recommends balancing the temperature in your attic with a proper ventilation system. An equal number of intake vents low on your roof and exhaust vents located high on the roof will circulate the cool clean air in and the dirty air out to prevent attic mold.
What Moisture And Humidity Levels Are Right For Attic Mold?
Attic mold grows where there are high levels of moisture and humidity. Mold growth thrives when the relative humidity is above 50%, meaning the air is halfway to being fully saturated. Attic mold is also commonly found where moisture collects. In some cases, moisture results from water vapor present on attic surfaces. When the humidity in the air is too high and the air circulation is poor, the moisture in your attic cannot evaporate and creates a great place for attic mold development.
What Does Attic Mold Look Like?
A thorough home inspection when you purchase a home will include a search for attic mold, but if you know what to look for, you can do your own inspections periodically. Mold found on surfaces like roof beams or in dark corners will have a black or dark green color to it and might just look dirty from a distance. If you cannot see any mold, but the air smells musty or musky, then the mold might be accumulating behind boxes you're storing, behind the walls, or in the insulation or under the floorboards. Most importantly, be sure to check around window sills or any leaks creating standing water.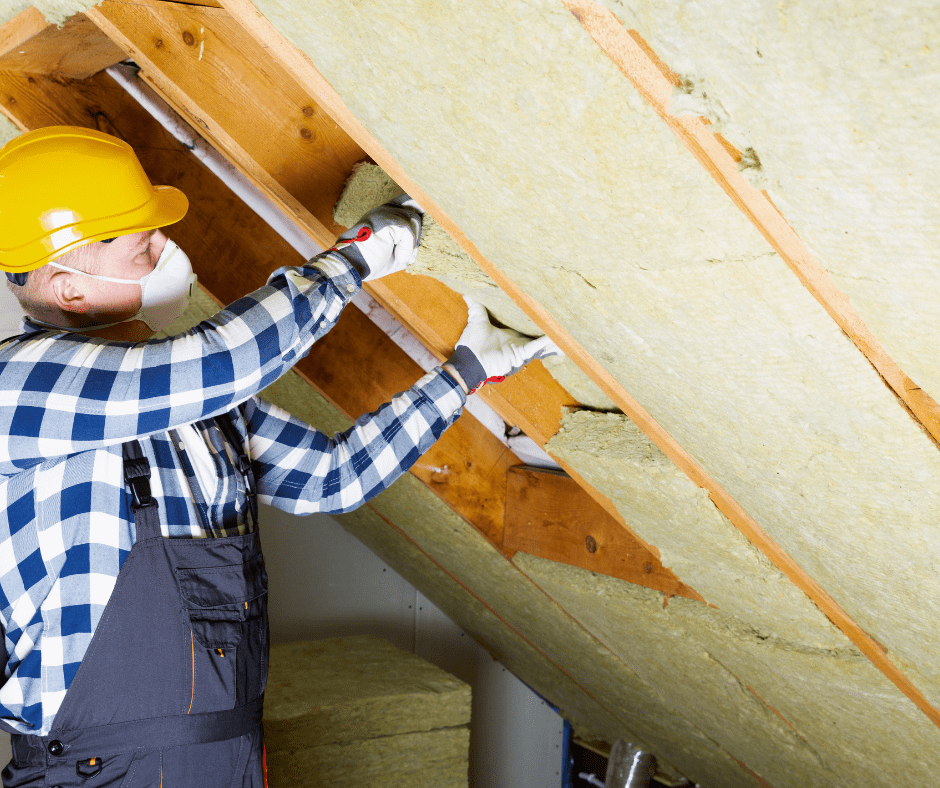 Is Attic Mold Dangerous?
Attic mold can be extremely dangerous to both people and the structure of your home. Residents who are immune compromised, or have asthma or mold allergies will be affected faster and more severely when you have attic mold. Unexplained symptoms like sneezing, coughing, watery eyes, and fatigue can all be caused by mold spores in your home. Severe cases of attic mold gone unchecked for an extended length of time can cause problems to the structure of your roof and attic. Mold can weaken wood beams causing structural damage or contaminating the insulation, drywall, and sheathing.
How To Get Rid Of Attic Mold?
To get rid of attic mold, first locate and stop any sources of moisture like clogged gutters or roof leaks. Remove any wet or damp items and use dehumidifiers and fans to dry the area, taking care to cover any places where loose mold spores can get into the HVAC system or into the main living area. Next, clean the surface with cleaning solutions certified to kill attic mold and prevent further growth. If your attic mold problem is difficult to reach or covers an area greater than 10 square feet, contact the mold remediation professionals at MSR Restoration. Our mold experts can do a comprehensive inspection of your home and recommend the best course of action, including complete attic mold remediation and the prevention of its return.